A Live Global Virtual Event with Prem Rawat
Sunday, April 25, 2021 • 5 p.m. CEST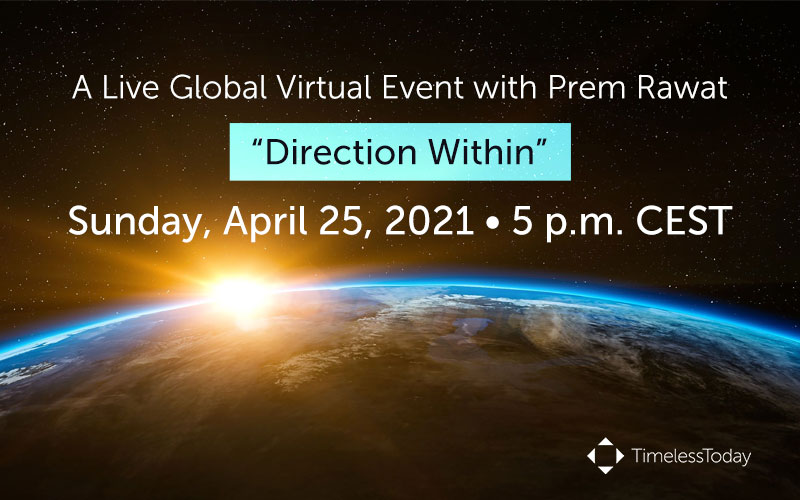 On Sunday, April 25, 2021, at 5 p.m. (Central European Summer Time) you are invited to listen or watch as Prem Rawat speaks from the heart to an international virtual audience.
There is no time like now for living consciously. Take your virtual front row seat as a TimelessToday subscriber (Classic or Premier) on the app or website.
Prem's address will be given in English. Other languages will be available as soon as possible.
Learn more about TimelessToday's subscription options.
More details to follow.
Worldwide Times

Location
Sun., April 25
Los Angeles, USA
8 a.m.
New York, USA
11 a.m.
Rio de Jeneiro, Brazil
12 p.m.
London, UK
4 p.m.
Barcelona, Spain
5 p.m.
Cape Town, South Africa
5 p.m.
Port Louis, Mauritius
7 p.m.
New Delhi, India
8:30 p.m.
Kathmandu, Nepal
8.45 p.m.
Kuala Lumpur, Malaysia
11 p.m.
Taipei, Taiwan
11 p.m.
 
Location
Mon., Apr., 26
Brisbane, Australia
1 a.m.
Suva, Fiji
3 a.m.
Click here for other time zones
Have a Classic or Premier Subscription?
You're good to go! Just log in to the TimelessToday app or website on the day of the event.
Don't have a TimelessToday subscription yet?
Enjoy this LiveStream (and all future ones), Replays of LiveStreams from 2020 and much more (including an expanding collection of Hindi content) with a TimelessToday subscription.
Want to Gift a Subscription or Sponsor TimelessToday?
Gift a Premier Subscription to a Friend or Relative
Share Prem Rawat's profound perspectives on the business of life with your friends and loved ones so they, too, can enjoy unlimited access to all premium content.
https://www.timelesstoday.tv/gift
Support TimelessToday's Initiatives
You can now provide sponsorship funds at TimelessToday's online store in support of a wide range of digital media initiatives designed to engage new and existing audiences interested in Prem Rawat's voice of wisdom.
https://www.timelesstoday.tv/sponsorship
Prem Rawat LIVE
On-Demand Replay is Now Available in 6 languages!
If you do not have a TimelessToday subscription, but registered for the live broadcast, then just log in with the same credentials. The Replay has now been extended to April 22nd. Enjoy this on-demand video in English, Spanish, French, Portuguese, Italian, and Hindi.
If you did not register for the live broadcast, but do have a TimelessToday Classic or Premier subscription, then you can access the audio and video of this Replay in the TimelessToday app or website anytime.
Enjoy this on-demand video in English, Spanish, French, Portuguese, Italian, and Hindi.
To stay informed about upcoming LiveStreams with Prem Rawat, please join the TimelessToday mailing list.
Instant Access to Hours of Premium Content
Sign up now and get instant access to all these Replays premium series, full-length content and more,
plus Prem's upcoming streams with a subscription.
Still have questions? Please visit our Support page. And if you don't find your answer and need to converse in Hindi, you can reach out to our India Help Desk.
Want to know when Prem Rawat's next Stream will be broadcast?
Join our Email List
Sign up now and get instant access to all of Prem Rawat's upcoming Streams,
plus all these Replays, premium series, and full-length content.