50th Anniversary Celebration LiveStream from Los Angeles is now over.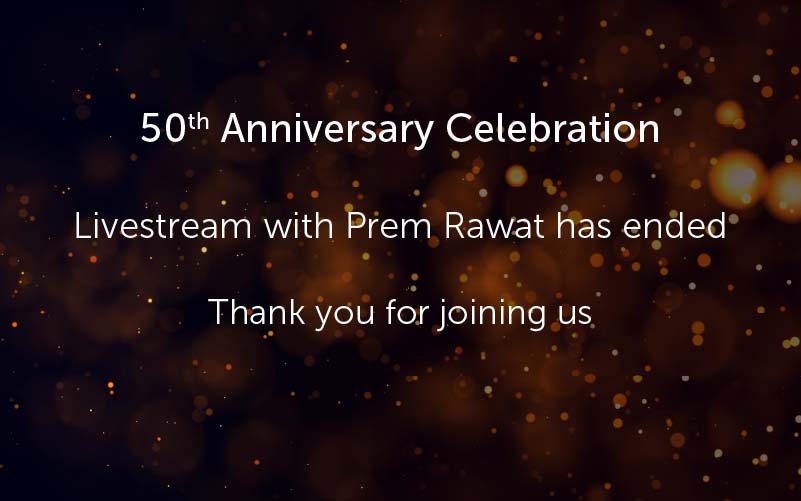 July 17, 2021 marks the 50-year anniversary of Prem Rawat coming to the United States. He was a 13-year-old boy living in India who set off to the West on a school break with an offering of practical tools for personal peace.
We celebrate his relentless efforts and his enduring passion to inspire people around the globe to discover their source of peace and the surest avenue for living life consciously.
Thank you for joining us in celebration of this milestone occasion honoring Prem!
Replays in English, Hindi, French, German, Italian, Portuguese, and Spanish will be available soon on the TimelessToday app and website with your Premier or Classic subscription.
Stay tuned for more details. Make sure to turn on app notifications if you have the TimelessToday app.
Learn more about TimelessToday's Subscriptions, Gifting, and Sponsorship options.
Have a Classic or Premier Subscription?
You're good to go!
Just log in to your account in the TimelessToday app or website, and enjoy the Replay when it becomes available.
Don't have a TimelessToday subscription yet?
No problem. Just choose your preferred option, sign up, and you're good to go.
With your subscription, you will have access to this Livestream and Replay, plus Replays of the three previous Global Virtual Events, Replays from 2017 thru 2021, and much more (including an expanding collection of Hindi content) with a TimelessToday subscription. If you live in India, you can get a  subscription with special regional pricing payable in rupees via PayTM, Netbanking, Debit Card, or Credit Card. 
Selfie Videos Campaign Promoting 50th Anniversary Celebration
Interested in sharing your personal experience related to this amazing milestone?
 What's required:
A well-lit, well-framed, brief selfie video of you speaking about one or all of the following points:
50 years ago at the age of 13, Prem Rawat headed to the West to bring his message to the world. How has his historic initiative impacted you?
This year also marks 55 years of his efforts to bring his message of peace to the world. How has his message affected you in your life, to this day?
What would you like the audience, at large, to know about Prem Rawat?
Tips to record your message:
Selfie will be viewed by all types of viewers—those familiar with Prem Rawat and those who may find this context completely new.
Please keep the language neutral.
Deadline: ASAP
Tips to set up before recording:
Background:
Set up a neutral and clutter-free background with no one else around or behind you. If filming outdoors, make sure you don't have tree branches behind your head.
Lighting:
If you plan to record in natural daylight, best time to film is during the morning when the sun is still coming up, or in the evening on its way down. This avoids strong highlights and shadows on your face.
Audio:
Try to avoid recording in noisy environments like barking dogs, honking traffic, etc. Clear audio is as important as your message, so the closer to silence as you can get, the better.
Camera Position: 
Look straight ahead and place your camera at the same level with your eyes. Placing the camera too low causes awkward perspectives and does not present you in a positive light. If possible, place the camera on a tripod or stand. Holding it in your hand while speaking sometimes causes excessively shaky video.
How to deliver your finished selfie video:
After you record your message, upload it to your Facebook account and make it publicly viewable by setting 'Audience' to 'Public.' Then include #PremRawatAnniversaries in your custom message so we can find it on Facebook.
Once successfully posted, send TimelessToday a message via Facebook messenger or to customercare@timelesstoday.com, so we can review and re-share your selfie on TimelessToday's Facebook page.
Feel free to share this information.
Here are a few of the 20+ selfies submitted so far:
Want to Gift a Subscription or Sponsor TimelessToday?
Gift a Premier Subscription to a Friend or Relative
Share Prem Rawat's profound perspectives on the business of life with your friends and loved ones so they, too, can enjoy unlimited access to all premium content.
https://www.timelesstoday.tv/gift
Support TimelessToday's Initiatives
You can now provide sponsorship funds at TimelessToday's online store in support of a wide range of digital media initiatives designed to engage new and existing audiences interested in Prem Rawat's voice of wisdom.
https://www.timelesstoday.tv/sponsorship
Instant Access to Hours of Premium Content
Sign up now and get instant access to all these Replays premium series, full-length content and more,
plus Prem's upcoming streams with a subscription.
Still have questions? Please visit our Support page. And if you don't find your answer and need to converse in Hindi, you can reach out to our India Help Desk.
Want to know when Prem Rawat's next Stream will be broadcast?
Join our Email List
Sign up now and get instant access to all of Prem Rawat's upcoming Streams,
plus all these Replays, premium series, and full-length content.