In partnership with EverSound Music, TimelessToday is pleased to offer inspiring new music just in time for the holidays. The Bells of Distant Stars is a new album by John Adorney featuring beautifully layered vocals by Daya, combining original compositions with traditional holiday melodies from various cultures.
With new interpretations of music from Passover, Thanksgiving, Christmas, Hanukkah, and Indian bhajans, the album carries a universal message of celebration, hope, and peace. The Bells of Distant Stars is music that can be enjoyed all year round.
As a special gift to subscribers, TimelessToday is offering a free download of one of the songs from this album — the beautiful Dona Nobis Pacem, featuring vocals by Daya.
This holiday album makes for an ideal gift for family and friends while supporting TimelessToday's efforts to share Prem Rawat's universal message of peace. With that in mind, we have created the following bundles at a highly reduced price, with free shipping (EverSound Music will ship your CD Bundles via Priority Mail):
Shipping Restrictions: Much to our regret, during the COVID-19 pandemic, CD shipping is restricted to North America.
If you intend to purchase the CD as a gift, please be aware there may be delays at the post office due to a higher volume of mail at this time of year.
The unauthorized reproduction or distribution of this copyrighted work is prohibited.
Prem Rawat in Paris, France
LiveStream Replay Now Available

"The story of the human being is that, in their heart of hearts, they desire peace."
—Prem Rawat, Paris, November 18, 2021
You can listen to Prem's full address on TimelessToday's On-Demand Replay with your Classic or Premier subscription.
with Premier Subscription
with Classic Subscription
An evening with Prem Rawat at the Palais des Congrès de Paris was filled with words of wisdom to fill the human heart. The bestselling author offered attendees (live and virtual) a "Paris exclusive" — simplify one's life by doing only one thing at a time, with the intention of enjoying everything you do. 
Prem also recommended structuring one's life so that the desire for peace is truly recognized and will bring a person closer to themselves.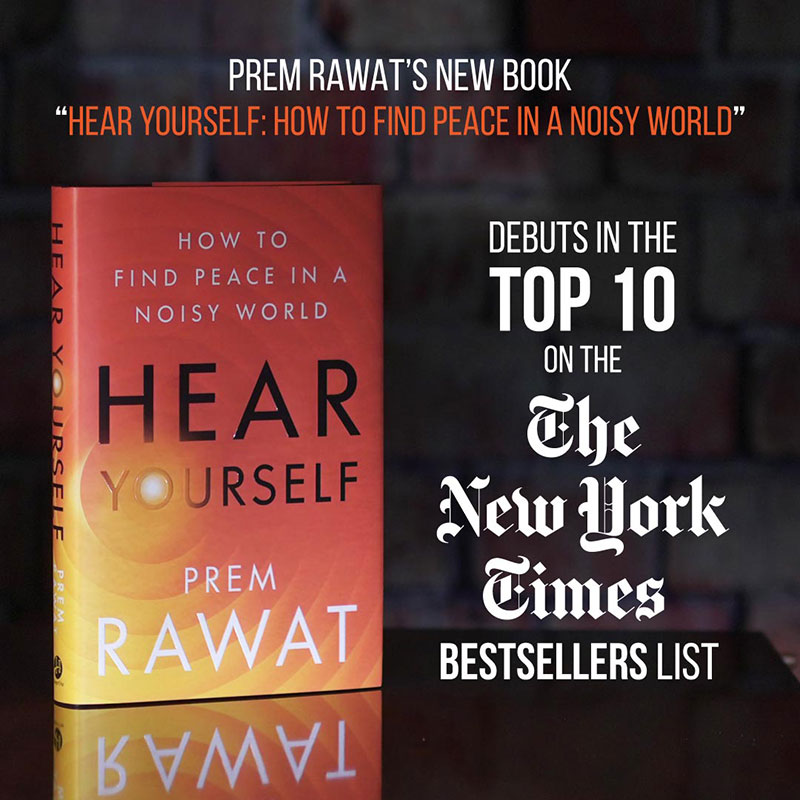 Order your copy of Hear Yourself at www.HearYourselfBook.com.
Kindle and Audiobook are also available on Amazon.
Have a Classic or Premier Subscription?
You're good to go!
Just log in to your account in the TimelessToday app or website, and enjoy the LiveStream on the day, and the Replay when it becomes available.
Don't have a TimelessToday subscription yet?
No problem. Just choose your preferred option, sign up, and you're good to go.
With your subscription, you will have access to this Livestream and Replay, plus Replays of the three previous Global Virtual Events, Replays from 2017 thru 2021, and much more (including an expanding collection of Hindi content) with a TimelessToday subscription. If you live in India, you can get a  subscription with special regional pricing payable in rupees via PayTM, Netbanking, Debit Card, or Credit Card.
Want to Gift a Subscription or Sponsor TimelessToday?
Gift a Premier Subscription to a Friend or Relative
Share Prem Rawat's profound perspectives on the business of life with your friends and loved ones so they, too, can enjoy unlimited access to all premium content.
https://www.timelesstoday.tv/gift
Support TimelessToday's Initiatives
You can now provide sponsorship funds at TimelessToday's online store in support of a wide range of digital media initiatives designed to engage new and existing audiences interested in Prem Rawat's voice of wisdom.
https://www.timelesstoday.tv/sponsorship
Instant Access to Hours of Premium Content
Sign up now and get instant access to all these Replays premium series, full-length content and more,
plus Prem's upcoming streams with a subscription.
European Tour: Brighton, UK
Hear Yourself Author Event
Still have questions? Please visit our Support page. And if you don't find your answer and need to converse in Hindi, you can reach out to our India Help Desk.
Want to know when Prem Rawat's next Stream will be broadcast?
Join our Email List
Sign up now and get instant access to all of Prem Rawat's upcoming Streams,
plus all these Replays, premium series, and full-length content.