LiveStream with Prem Rawat has concluded.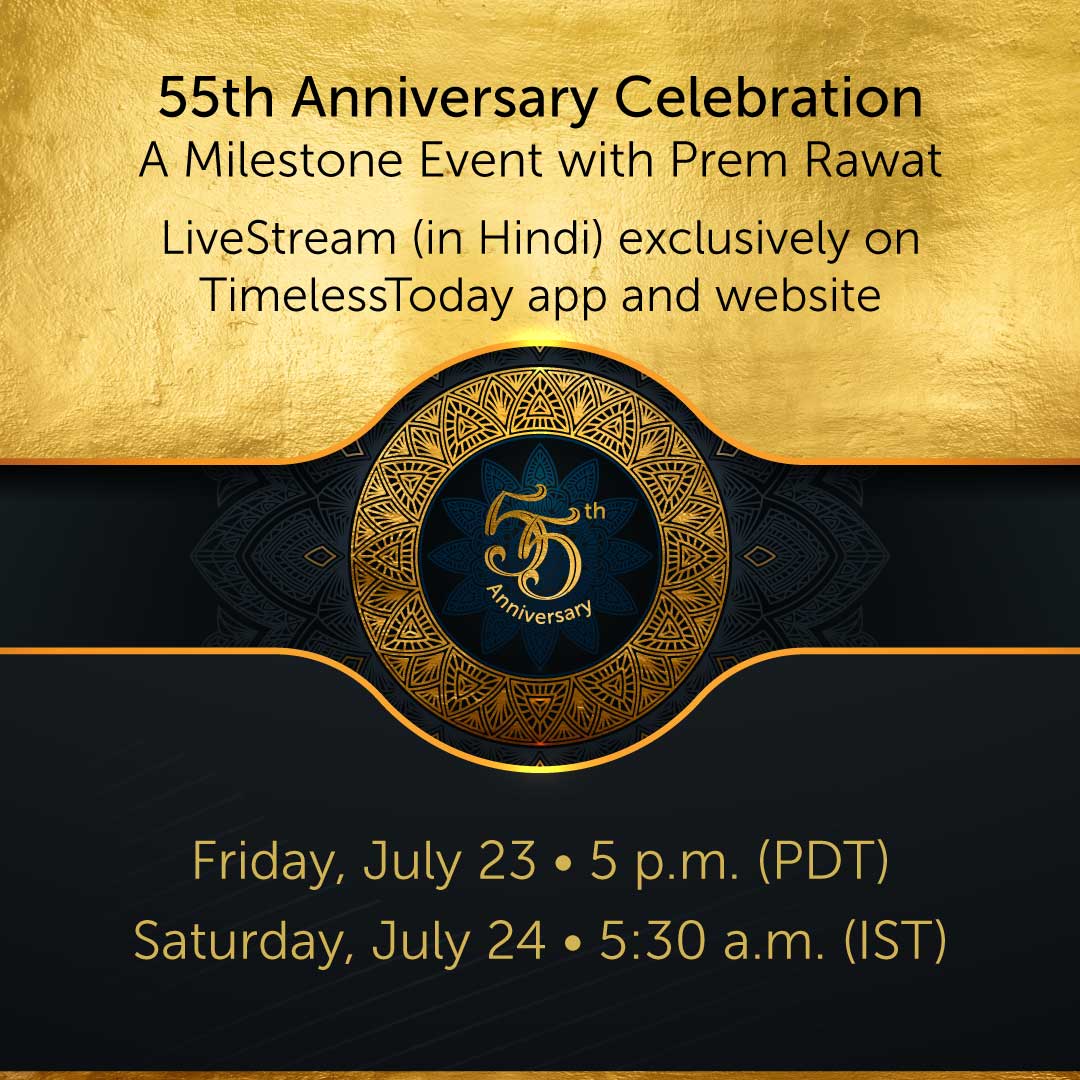 Fifty-five years ago in July, Prem Rawat accepted the responsibility of his father's vision to bring self-knowledge to humanity. The joyous impact of Prem's lifelong efforts were be celebrated on July 23, 2021 with a live address from Prem speaking in Hindi.
TimelessToday's exclusive capture of Prem's address in real time for livestream has now concluded.
The On-Demand replay in Hindi, and also with English translation will be available to subscribers within approximately 72 hours of the broadcast.
Thank you for joining!
Learn more about TimelessToday's subscription, sponsorship, and gifting options.
Have a Classic or Premier Subscription?
You're good to go!
Just log in to your account in the TimelessToday app or website, and enjoy the Replay of this livestream as soon as it becomes available.
Don't have a TimelessToday subscription yet?
No problem. Just choose your preferred option, sign up, and you're good to go.
With your subscription, you will have access to this Livestream and Replay, plus Replays of the three previous Global Virtual Events, Replays from 2017 thru 2021, and much more (including an expanding collection of Hindi content) with a TimelessToday subscription. If you live in India, you can get a  subscription with special regional pricing payable in rupees via PayTM, Netbanking, Debit Card, or Credit Card.
Instant Access to Hours of Premium Content
Sign up now and get instant access to all these Replays premium series, full-length content and more,
plus Prem's upcoming streams with a subscription.
Still have questions? Please visit our Support page. And if you don't find your answer and need to converse in Hindi, you can reach out to our India Help Desk.
Want to know when Prem Rawat's next Stream will be broadcast?
Join our Email List
Sign up now and get instant access to all of Prem Rawat's upcoming Streams,
plus all these Replays, premium series, and full-length content.